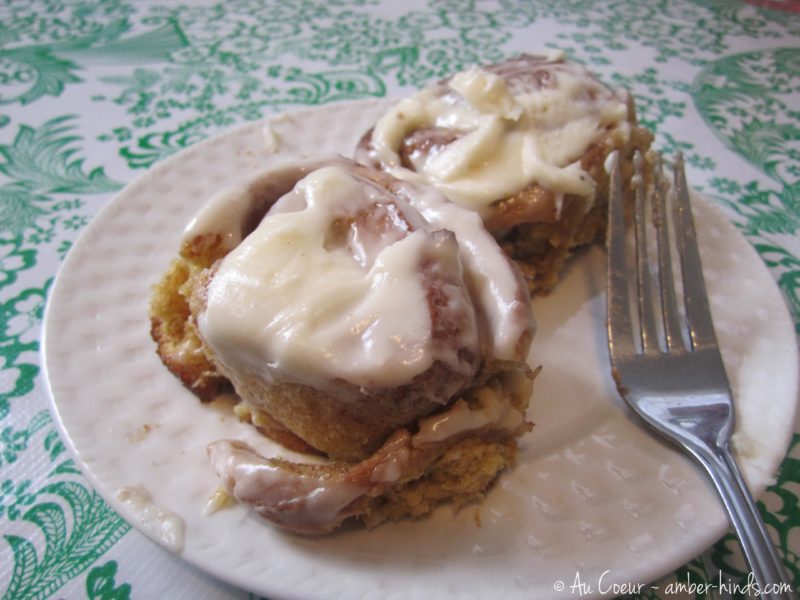 Pumpkin Cinnamon Rolls Recipe
Related Post: Recipe Explosion
Adapted (barely) from Good Life Eats
Read more recipes here.Ingredients
Roll Dough:
1/4 cup warm water (not hot, about 110 degrees)
1 package (2 1/4 teaspoons) active dry yeast
1/3 cup warm heavy cream (or milk if you don't have cream to use up like me)
1 large egg, beaten
3/4 cup pumpkin puree, either fresh or canned
1 tablespoon canola oil
2 cups (approximately) All-Purpose Flour
1 1 /4 cup Whole Wheat Pastry Flour
1/2 cup brown sugar
1 teaspoon salt
3/4 teaspoon cinnamon
1/4 teaspoon ground ginger
1/4 teaspoon ground cardamom
Filling:
1 stick butter
2/3 cup white sugar
1/4 cup brown sugar
2 teaspoons cinnamon
1/2 teaspoon each of allspice and ginger
1/4 teaspoon nutmeg
1/8 teaspoon cloves
Cream Cheese Frosting:
4 ounces cream cheese
1 stick (4 ounces) butter, softened
1 teaspoon vanilla extract
3/4 teaspoon lemon juice
2-3 cups powdered sugar
Directions
In a large bowl, stir yeast into water to soften. Let rest for 5 minutes before stirring. Add cream/milk, eggs, pumpkin, oil, 1 1/4 cups whole wheat flour, brown sugar, salt, cinnamon, ginger and cardamom to yeast mixture. Beat vigorously for 2 minutes.
Gradually add remaining flour (all purpose), a little at a time, until you have a dough stiff enough to knead. Start with about 1 1/2 cups and increase if necessary. Turn dough out onto a floured surface. Knead, adding flour as necessary, until you have a smooth, elastic dough.
Put dough into an oiled bowl. Turn once to coat entire ball of dough with oil. Cover with a towel and let rise until doubled, about 1 hour.
Combine the white sugar, brown sugar, cinnamon, allspice, ginger, nutmeg and cloves in a small bowl, set aside. Transfer the risen dough to a lightly greased work surface, and pat or roll it into a 16″ x 12″ rectangle. Spread softened butter over dough and then sprinkle with the sugar mixture.
Roll the dough into a log the long way; it'll stretch to about 20″ long as you roll. Using a very sharp knife, slice the log into 15 slices. In order to cut down on drag, it helps to rinse the blade in hot water, and wipe it off, between slices. Place slices in a greased 9×13 inch baking pan (or in two 8 or 9 inch round cake or pie pans). Cover with a towel and let rise until almost doubled, about 45 minutes.
Bake in a preheated 375°F oven. Bake the rolls till they're brown around the edges and beginning to turn golden brown across the center, about 20-30 minutes.
While rolls bake, prepare the cream cheese frosting. Add the cream cheese, butter, vanilla, and lemon juice to a small bowl. With an electric mixer, blend until smooth and combined. Add the powdered sugar 1/2 cup at a time, blending in between, until well mixed and desired consistency is reached. (I used 2.5 cups powdered sugar)
Frost warm rolls with the cream cheese frosting and serve immediately.
For night before prep: What I did!  Prepare the rolls up to the point where you roll and place in the pan. Then, cover in plastic wrap and refrigerate overnight. In the morning, remove the pan from the fridge and proceed with the instructions where you left off. Rising time will be longer than noted in the recipe due to the dough being cold vs room temp.  My second rise out of the refrigerator took nearly 2 hours – it's not about the time, it's about the dough doubling in size.