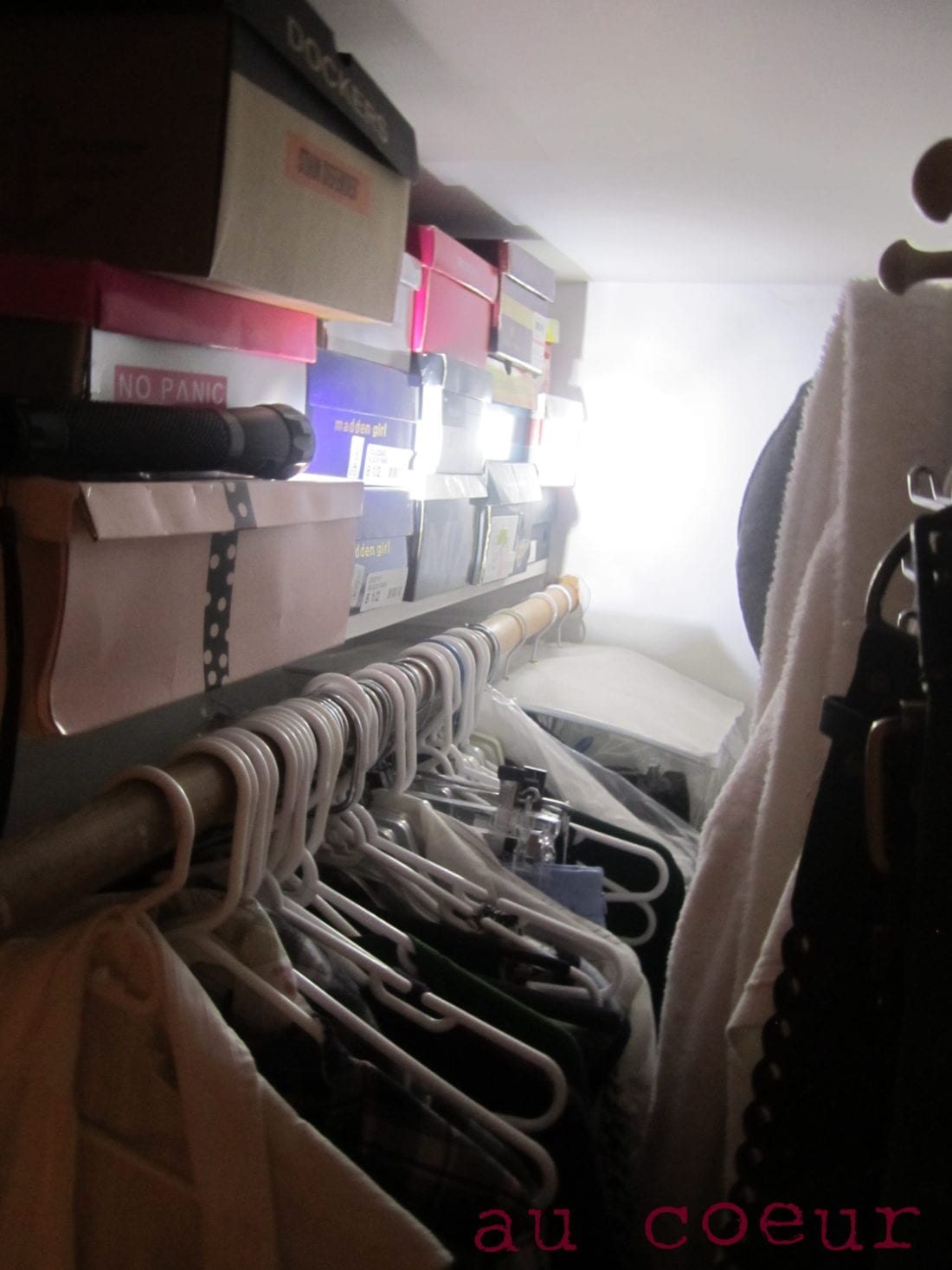 /
To Sell or Not To Sell?
There's no Wordless Wednesday today, because I need your advice!  This is a three-days-before-the-yard-sale desperation post.  We're having a yard sale on Saturday and though I told myself I was going to downsize my closet, but I'm not sure that I can go through with it!  So, I either need a pep talk to just take the plunge, or reassurances that it's okay to hang on to things a little longer.  Here's the back story:
Before I had Nora, I was a size 6, sometimes 8.  I worked in graduate school admissions, which required professional dress: business casual in the office and suits on the road.  As such, I had quite the collection of clothing that I knew wouldn't be worn much in my new housewife role.  Before we moved out here I sold or gave away a lot of it, mostly some of my cheaper or older things.  I couldn't bring myself to get rid of all of it though, so I still have a sizable portion of my closet devoted to clothes and shoes I don't currently wear.
We've lived on Nantucket for 13 months now and I have gone out to eat in a nice dress three times and business pants with a sweater once; I haven't put on a suit at all.  Not only do I not really have much reason to dress up, I am now a size 2, which means though the clothes are wearable, I don't feel great in many of them.   The last time we went out it took me forever to decide which dress to wear, because I felt self-conscious about "bagginess."  So I told myself I would sell them this weekend.  But, when I pulled them out of the closet, sharpie and price stickers waiting, I started to have a change of heart.  This is what was running through my mind:
1.  Some of these are sentimental…like the dress I was wearing when Chris proposed
2.  It's all really nice stuff: The Loft, Calvin Klein, Talbots, etc., which means hundreds of dollars worth of clothes.
3.  If I were to get rid of them and then need to go back to work (or something), we couldn't currently afford to replace these clothes with something of equal value.
4.  Maybe I could alter the dresses on my own (suits would require a tailor) to make them fit?
5.  Maybe Nora and I could just start dressing up once per week so that they are actually being worn?
And that doesn't even begin to touch on the shoes.
Some of it seems a little crazy.  Obviously it would be impractical to wear a suit while hanging out with a toddler.  I say that I could alter the dresses, but when am I going to do that?  I already have a pile yay-high of skirts waiting to be made smaller (I see a greater chance of those getting worn about town).  Would it cost so much to have a tailor alter a suit that I might as well go buy new ones?  And even if I do alter them all, where/when would I wear them?
And some of it makes sense.  It is frugal to make what I already have work instead of getting rid of it and buying new.  And it's prudent to remember that there is some possibility I may someday again have to go work in an office setting.  (Of course, who knows how many years from now that will be and what the fashions will be like.)  Even if we don't make regular habits of eating out or the like, I do need to have at least one suit and a couple of nice dresses just in case.
So I'm stuck.  Should I sell all of them?  Some of them?  Or let them live in my closet for another year?  And if I'm going to sell them, how much should I ask?  I' don't think I could bear to sell a $280 suit that looks brand new for less than $50…and even that feels like a great loss.  Would people even pay that much?
Help!